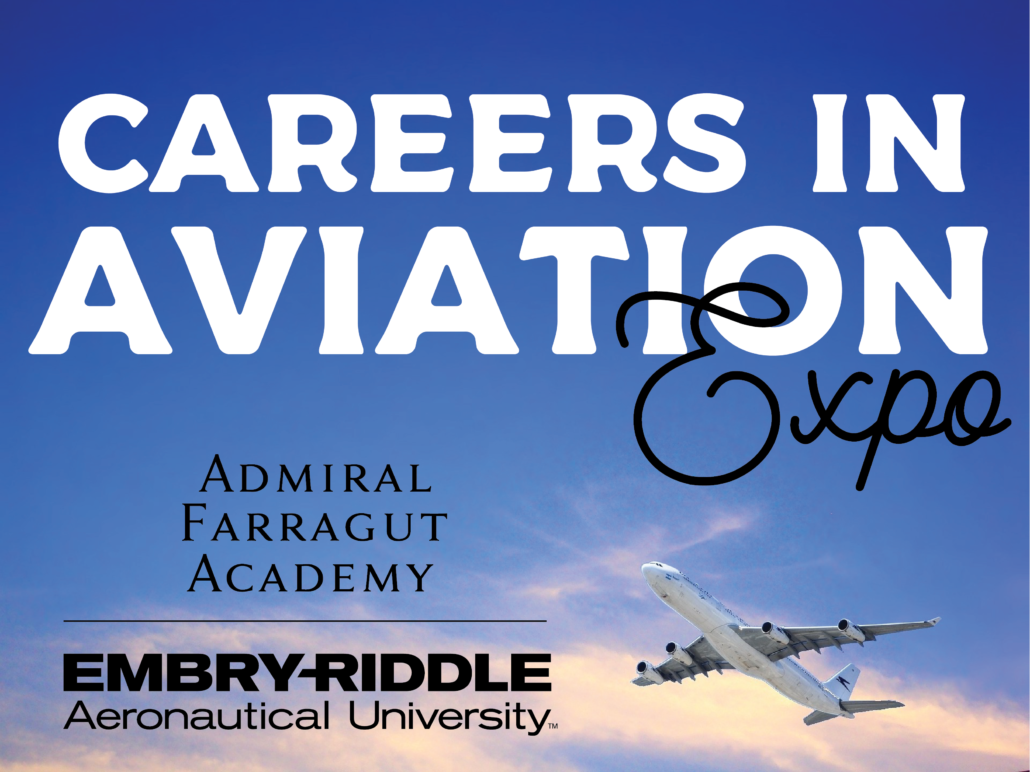 Please join us and invite your friends to the Careers in Aviation Expo!
On Saturday, January 11, 2020, from 11:00 a.m. to 1:00 p.m., Admiral Farragut Academy will partner with Embry-Riddle Aeronautical University to host a Careers in Aviation Expo at Farragut for young people interested in working in the aviation industry.

---
It's a great time to work in the aviation industry. More than 800,000 new pilots and 679,000 aircraft technicians will be needed over the next 20 years, according to the Boeing Company's industry forecast.
With air travel increasing worldwide, career opportunities are also booming in aviation business and finance, airport management, air traffic control, aerospace engineering, aviation data analytics, aviation cybersecurity, and more.
---
The Program Includes
Keynote Speaker Nicole Stott is an AFA current parent, an ERAU graduate of '87, and a retired American Engineer and NASA Astronaut. During her 27 years at NASA, she served as a Flight Engineer on ISS Expedition 20 and Expedition 21 and was a Mission Specialist on STS-128 and STS-133. Today, Stott is the Space for Art Foundation Director.
A panel discussion with other professional pilots and individuals with aviation industry experience.

Tom Head (ERAU '10), Southern Air Systems Corporate Pilot
April Allen (AFA '00, ERAU '18), JetBlue Airways Airline Pilot
Marshall Pitts (AFA '97), Envoy Airlines Regional Pilot
Brigitte Lakah (ERAU '86), UPS Air Cargo Pilot
Chris Thomas (AFA '87), JetBlue Airways Aerobatic Pilot
Douglas Pearson Sr. (AFA '66), FAA, ATC
Thomas Jewsbury (ERAU '89), St. Petersburg Clearwater Airport Executive Director
Ben Srock (ERAU '14), Textron Aviation Customer Experience Manager

Throughout the event, aviation professionals will be on hand to answer questions and provide insight to students about careers available in the field of aviation.
If you are not a current Farragut student or parent, you can also receive a tour of Admiral Farragut Academy.
Light refreshments.
---
Date/Time
Saturday, January 11, 2020
11:00 a.m. to 1:00 p.m.
Doors open at 10:30 a.m.
---
Let Us Know You're Coming
Open to the public
Although this will be geared towards high schoolers, people of all ages are welcome to attend
Free event
---
Location & Directions
Admiral Farragut Academy, DeSeta Hall building
501 Park Street North, St. Petersburg, Florida 33710
---
Parking
Use the 5th Avenue North entrance. Parking, both regular and handicapped, is located in front of DeSeta Hall and in the parking circle around Farragut Hall.
Additional parking is also located next to the Russel Building and along 5th Avenue North.
Overflow parking is also available in another lot on the 9th Avenue North side of campus.
---
Event Questions / Be a Guest Speaker
Contact Director of Aviation Rob Ewing by email at rewing@farragut.org if you have questions regarding the event or have valuable aviation experience and would like to present as a guest speaker.
---