TAPS is the way we pay tribute to Admiral Farragut Academy graduates who have passed away.
---
TAPS: Jeremiah Kain '36N, of Enon, passed away on July 16, 2016 (obituary received May 2019), peacefully at his home. Born in Philadelphia, he graduated from Admiral Farragut Academy, and from Lafayette College in Easton, PA. Graduating in 1941 as an engineer, he went to work for Bethlehem Steel and built ships in Quincy, MA, for the duration of World War II. Following the war, he worked for Stone and Webster Engineering, which brought him to Hopewell, VA, in 1951. After many years at Stone and Webster and then in the homebuilding business, he completed his professional career in the construction of nuclear power plants. He was an active member of the local Optimist Club serving for several years as president. He also built a beach cottage that was a haven for his entire family for more than 30 years. After his retirement in 1978, he and his wife Mary were lured back to the ships. As frequently as possible, they enjoyed cruises to points near and far: Europe, the Caribbean, South America, and the Pacific. His favorite cruises were those that included passage through the Panama Canal, an engineering feat that never ceased to amaze him.
---
TAPS: Burton H. Gilpin '46N passed away on Friday, April 5, 2019, at the age of 91 in Hughson, CA. He was the eldest of three children and lost his father when he was only 5. He was raised in Newfoundland, PA, where he was active in Boy Scouts, FFA, and athletics. He attended Greene-Dreher Vocational School until the age of 17, when he left home to attend Admiral Farragut Academy. Although he was invited to attend the Naval Academy, he declined the appointment, having already been recruited as a "Flying (Aviation) Midshipman." He attended naval flight school, received his Navy wings, and was commissioned as a naval officer. As a Navy Fighter/Test Pilot, he is recognized as a key individual in developing the Navy Fighter Weapons School (Top Gun School). He married Beverley Reisner in 1959. They lived in various places throughout the U.S. during his naval career, until his retirement in 1970. After the Navy,  he taught middle and high school mathematics in Pennsylvania's Wallenpaupack Area School District. Always an active community and church member, he spent the last 35 years involved in Kiwanis, the Pitman and Turlock High Key Clubs, tutoring children at Osborn School, and delivering Meals on Wheels. He was a founding member of local SIRS (Sons in Retirement). He spent much of his time delivering taped church services and visiting the sick and elderly. In 2006, he was recognized by Stanislaus County as an Outstanding Senior Citizen and volunteer of the year. 
---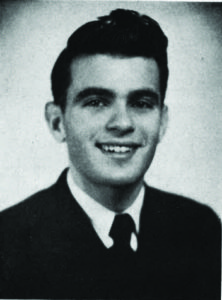 TAPS: Larry Phillips '46S passed away on August 10, 2019, at age 92 in Hollywood, FL. He was a first-generation born American, of parents from Pontypridd, Wales, and Kyiv, Ukraine. His son, Tim Phillips, wrote us and said, "He was a very bright man, his excellent education showed. He loved his years at Farragut. He wanted me to go but my Mother had other ideas. They attended reunions and my Mom always commented about the important people he went to school with. He told stories about during the war, the school had lights out after dark so the German U Boats could not see the shore. . . He laughed about demerits, seemingly he got a lot. Nobody made as perfect a bed as he did, he said he learned that at Farragut. His nickname on his Yearbook says "pills". He had rheumatic fever as a child and took those pills his entire life."
---
TAPS: Alan Bruce Magidoff '47N passed away peacefully on July 4, 2019, in Los Angeles, CA, at age 89 from his challenging decade of battling Alzheimer's disease. He attended Lawrence High School before going to Admiral Farragut Academy, where he graduated as valedictorian. Afterward, Bruce earned a bachelor's degree in Science from Hofstra University. A year later, he married Iris Rosenblatt and the couple began married life as Bruce served in the Army and was stationed in Indiana and Colorado. After the Army, he worked in the ladies garment industry for more than 30 years. He became an expert in production management, teaching at the Fashion Institute of Design & Merchandising in Los Angeles before his retirement to Palm Desert and Rancho Mirage. From being a member of a self-proclaimed group called the ROMEOS (Retired Old Men Eating Out) to crooning at parties and in the synagogue, he made friends everywhere. His daughter Bobbi wrote us: "Dad's natural gusto for life came out when he sang, which was beautiful and often at home, at parties and in his synagogue. . . Dad's greatest joys were his wife and family, his life-long friends and his leisure pursuits, which included golf, tennis, travel and dining." He also volunteered in the Family Program at the Betty Ford Center and as a reading aide for elementary children. He organized a social club called the Romeos. "He shared with and exemplified to his children and grandchildren a moral center, constancy, devotion to parents and family, and a life well-lived with plenty of optimism and humor." 
---
TAPS: Alden Elsea '51S passed away on Sept. 12, 2019, at age 85. His early life was spent in New Rochelle, NY, and Fruitland Park, FL. In 1945, he entered Admiral Farragut Academy, and graduated in May 1951 as the Cadet Battalion Commander. He then enrolled at the University of Missouri under an NROTC scholarship. While at MU he joined Beta Theta Pi fraternity and was active in the Presbyterian Student Center After graduation, he married the former Katye Godsey and was assigned to the USS Macon, serving as Air Controller and Gunfire Control Officer. After completing his tour of duty (as LTJG) he undertook a year of graduate study in Agricultural Economics before moving to Marshall to become manager of the family farms. In 1962, he received his master's degree in Science Education and began his 35-year high school teaching career. After retirement he spent 10 years as owner of The Education Station. He served in the Presbyterian Church for decades as a deacon and elder. He was active and/or supported  the Saline County Fair Board, Saline County Water Garden Club, Marshall Saddle Club, Friends of the Library, Missouri State Saddle Club Association, Marshall Community Chorus, Marshall Philharmonic, and the Municipal Band. Foremost, he was a devoted family man, spending many hours with his wife and daughters while sharing a love of the outdoors, their horses and dogs.
---
TAPS: Evander Preston '52S passed away on Sept. 14, 2019, at age 84, after what his family said was a long illness. According to an extensive obituary in the St. Petersburg Times: he "grew up in St. Petersburg, FL, with Juilliard-trained parents who served at Pasadena Community Church. After graduating from Admiral Farragut Academy in 1952, he left to attend college but struggled to get by after blowing most of his money on pinball. After scrounging leftover shrimp tails and working at an adding machine company in New York City, he returned to St. Petersburg and went into business with his father at Preston Music Co. For decades, it was one of the city's largest businesses selling and repairing musical instruments." According to the Times, he eventually burned out on the music business, moved into a shop above Preston Music Co. and sold his own custom-designed jewelry. His jewelry is what made him well-known to both residents and tourists of the Pass-a-Grille section of St. Pete Beach. His following was worldwide, his wife of the past 20 years, Susan Cameron, told the Times. His customers were said to include Jimmy Buffett, Lauren Bacall and Carl Reiner. Per the Times, his main focus at the end of his life was creating sculptures of kooky humanoid forms with bodies formed of old rakes and fence posts, African masks and clocks, bicycle seats and tarnished French horns. Cameron told the Times that he "encouraged and promoted so many people. Gave them something and they gave him something." 
---
TAPS: William Ivan Schoenfeld '53N passed away on Oct. 14, 2018, at age 83. His long, meaningful life was filled with a wonderful family and great friends and was marked by an illustrious career. While obtaining his undergraduate degree from the University of Vermont, he enlisted and proudly served in the Naval Reserve. He received his master's degree from New York University. Subsequently, he was a charter member of Ocean County College and ultimately became Chairman of its Fine and Performing Arts Department. He and his wife worked together to create successful jewelry design businesses in Metallurgy and Gemsmith. Active in the community, he was especially devoted to his work as a board member and president of Ocean's Harbor House, which provides a safe haven and services for homeless youth.
---
TAPS: James Marchbank '53N passed away on Feb. 10, 2019. He is survived by wife Nancy, sons Robert (Barbara) and Andrew (Sally), grandchildren Duncan, Kirsten and Ryan.
---
TAPS: William "Bill" M. Manzi, Jr. '53N passed away on April 21, 2019, at age 84, at home and surrounded by his family. He attended Holy Rosary Grammar School, Admiral Farragut Academy, and Lawrence High School. Bill was a master electrician, beginning his career working for Manzi Electric, and became the head of the "Jobbing" Department. He eventually formed his own company, Wil-Man Electric. He was a lifelong member of the IBEW Local 103. Bill also owned and operated Rostron's Package Store in downtown Methuen, MA. He was one of the founding members of the Merrimack Valley Package Stores Association, and an active member of the Massachusetts Package Stores Association. Bill eventually became the Superintendent of Maintenance for the Methuen Housing Authority. He retired from that job after ten years. He instilled in his family a strong work ethic. He shared many years of marriage to Tania, who was his soulmate and the bedrock of his life. He loved his time with her at their winter residence in Deerfield Beach, FL, where they enjoyed some quiet time together, seeing friends, and occasionally visiting the fabled thoroughbred race tracks of that state. He spent many years volunteering as a youth basketball coach. He cared about his student athletes, and had many lifelong friendships with the young men he coached. He loved the Boston Celtics, being a season ticket holder in the Bill Russell era, and he was a longsuffering Red Sox fan.
---
TAPS: Forrest Fishburn '59S of Knox, IN, passed away on Friday, Feb. 22, 2019, surrounded by his family. In 1962 he married his loving wife Patricia. Forrest was a member of the Our Redeemer Lutheran Church in Knox, IN, and a member of the Hope Lutheran Church in Satsuma, FL. He was the past president of the Bass Lake Property Owners Association and former assistant chief of the Bass Lake Fire Department. He was the owner of Fishburn's Marina at the south end of Bass Lake for many years. He was an avid sportsman and enjoyed hunting and fishing. His greatest passion was spending time with his family and grandchildren. Fellow Farragut alumnus and friend for over 70 years, Bill Soenksen '55S, said this about Forrest, "There are friends, there are good friends, there are best friends, and there are friends who are like brothers. My friendship with Forrest surpassed all of those, ours was a friendship which was the best a person could ever have." 
---
TAPS: Ronald "Ron" Wise '62S, a resident of Tellico Village,TN, passed away on Oct. 26, 2018, at Medstar Washington Hospital in Washington, D.C. due to complications from heart surgery. He died peacefully and was surrounded by his loving family. Ron received his undergraduate degree from Huntingdon College, his master's degree from Auburn University, and his law degree from Seattle University Law School (formerly known as the University of Puget Sound Law School). He will be remembered for his intellect, generosity, his willingness to help others, and his passion for genealogy and education. He was a member of the Tellico Village Water Board and was on the Board of the Evelyn Miller Young Pianist Series. During his long legal career, he was an Assistant Attorney General for the State of Washington, Counsel for the Department of the Navy in Crystal City, VA, an Assistant US Attorney for the Southern District of Alabama, and Chief of Administration and Legislative Affairs at the Inspector General's Office for the Tennessee Valley Authority (TVA). His wife, Susan, donated to the Academy a beloved print of Admiral Farragut's ship in the Battle of Mobile Bay that hung in his office.  
---
TAPS: Dr. Robert Lee Stout '65S died March 31, 2003 (obituary received April 2019), at Robert Wood Johnson University Hospital in Hamilton, NJ. He was a former resident of Broomall, PA, before moving to Ewing, NJ, in 1982. He attended Penn State University, received his undergraduate degree in 1968, his master's degree in Economics in 1971, and his PhD in Economics in 1978. He was a distinguished and respected educator. For 12 years, Dr. Stout served as the Executive Director of the New Jersey Council of Economic Education. In 1998, he became the Administrative Director of the Business Program at Penn State University, the Delaware County Campus. He was an active and faithful member of the New Life Christian Church in Newtown, PA, where he served as an adult Sunday School Teacher. He also served on the Board of Directors for the American Missionary Fellowship for 22 years. He was a loving and devoted husband, father, and grandfather. He enjoyed running (he completed 10 marathons), golfing, fishing, spending time with family, friends, and church family.
---
TAPS: Bruce Candland '65S passed away on Feb. 9, 2019. He was born in New York and he and his family moved to Mexico City when he was 6 years old. He attended the American School in Mexico City and later Admiral Farragut Academy. His college years were spent at the University of Colorado, Denver where he met his first wife, Marybeth. He became a CPA and until retirement worked in the healthcare industry in both Colorado and Arizona. He met his second wife, Maggie when they both worked at St. Joseph's hospital in Phoenix in 1985. He volunteered and supported numerous charitable and nonprofit organizations. His favorite activities include water skiing, snow skiing, traveling, and driving his magnetic red Corvette. Bruce's kindness, loving personality, and his jokes will be missed by all of us who knew him.  
---
TAPS: Bruce Greenspan '65N, age 72, of Savannah, Georgia, passed away Thursday, May 9, 2019, at St. Joseph's Hospital. Bruce was born in New Jersey, was of the Jewish faith. He served in the National Guard Airborne Division during the Vietnam War. He attended and played basketball at Long Island University. He was an avid golfer who also enjoyed fishing and boating.
---
TAPS: Victor "Vic" Marek III '69N, age 68, of Haddam, CT, passed away August 29, 2019, at his home. He attended Admiral Farragut Academy and then graduated with his bachelor's degree from Central Connecticut University. He worked in an office setting for a number of years after college, but his true passion was working outside. This passion led him to start his own excavation business, Marek Construction, which he owned and operated for over 30 years in the Haddam area. He often used his car or truck horn to say hello to friends and family, particularly as he drove to or from job sites. He was an active member of the Haddam Lion's Club, an avid boater, and enjoyed working around the house, which he saw as his pride and joy. He also enjoyed spending time with his children and grandchildren whenever he could. Victor will be remembered for his strong work ethic, larger than life personality, and generous heart. 
---
TAPS: Marc Ware '93 passed away on May 28, 2019. He was 6 minutes older than his fraternal twin Marcus and the second-oldest of six siblings. He graduated from Farragut as a decorated Senior Chief Petty Officer and served on the prestigious Battalion Staff. After high school, he briefly attended Hampton University and later served his country for eight years in the United States Army Reserve as a prep school policeman. He was honorably discharged with the rank of Specialist. Continuing his education, he received his bachelor's degree from California State University, Dominguez Hills, in 2011. He was a multi-talented man who loved to cook, travel, and spend time with his family. A great athlete, Marc lettered four years on his high school's basketball and baseball teams. He had a passion for furthering his education like his mother Denise. He worked 10 years for Verizon Communications as a Facility Technician before committing himself to a career in service and counseling. He loved helping people and using his life experiences to help others. He also had a passion for film and writing movie scripts. While living in California, he worked with several production companies to learn the business. He was a free spirit, walked to the beat of his own drum, and will be greatly missed.
---
If you have someone to submit to TAPS, please email alumni@farragut.org
---