The evening of Saturday, March 4th over 120 parents, friends, and staff gathered at the beautiful Club at Treasure Island for our annual Parents' Group auction. This year's theme was an elegant "Night at the Masquerade Ball". Parents dressed the part in beautiful evening gowns and suits arriving with their masks on.
Parents' Group President Denise Colangelo said, "This year's Parents' Group auction was a collaboration between Chairperson Malia Bakken and her Co-Chair July Bonilla that began in the early fall. These two dynamos worked tirelessly along with staff member Alison Lescarbeau, PG board members, volunteers, and donors to create the successful evening on Saturday night. I could not have been more proud of these ladies and all the volunteers who worked so hard to make the event successful."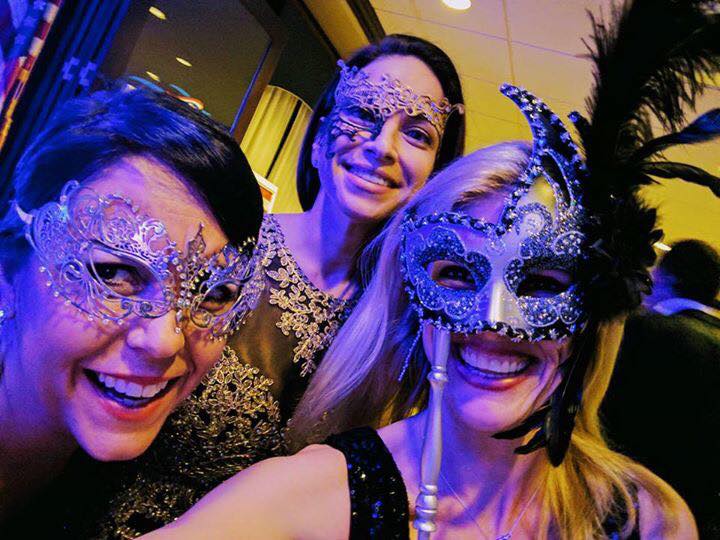 The silent auction tables looked absolutely stunning! The silent auction included class projects from the lower grades which will be "forever" keepsakes by the lucky winners! Each class also put together a class basket with themes such as "Pot of Gold" which included a chance to win millions of dollars on lottery tickets, an authentic "Spanish Sangria" basket, and an "Off to College" basket, a must have for any graduating Senior. Bidders also had the opportunity to purchase sports memorabilia as well as staff donated items such as "Principal for the Day" or a flight with Aviation Director, Rob Ewing.
Special thank you to our event sponsors the Klingel Family and the Sokolowski Family. Their donation was crucial in underwriting the costs of the event. Additional sponsors for the event included:
Gregory, Sharer & Stuart

Hajek & Hajek, CPA

The Love Family with Gator Mechanical of Tampa Bay Inc.

Salebra Family Restaurants

The Backman Family

Dr. Camille Fine, Pediatric Psychologist

Wallace, Welch & Willingham

Diamonds Direct located at the Sundial
A prime rib dinner served by Chef Paul at The Club was absolutely fantastic with the meal ending by a one of a kind delicious triple chocolate mousse cake! Guest enjoyed dancing provided by M & M Entertainment our very own D.J., Officer Mike.
Our very own auctioneer and parent, Brian Bakken, did a great job with the live auction items which included the ever popular "Party Like a Pirate" on the pirate ship in John's Pass donated by parents Shawn and Jeanna Damkoehler. (Purchased for a pirates treasure by the Backman family who will have a party for their twin boys Blake and Barrett!) Additional live items included a flight to San Antonio to dine with our alumnus and astronaut, Charlie Duke. (Purchased by the Turner and Miksch families). Other items sold were a dinner prepared by Chef Paul including our own Headmaster Robert Fine who will don his chef's hat for the evening, a flag that flew over the U.S. Capitol with a private tour hosted by parent Congressman McCaul, and the much demanded reserved parking spaces on campus.
Overall the event was a HUGE success thanks to the many hours of volunteer work, supporters and all who attended bringing in a gross amount of about $96,000! Thank you all for your support.