On Thursday, April 14 at 9am in the Student Center, senior student-athlete Maiya Fudge signed her National Letter of Intent to continue her academic and softball career at Bethune Cookman University. Joining us for the event was Maiya's family, classmates, and teachers, as well as members of the Bethune Cookman Alumni Association. Maiya signed to play Division 1 at BCU with an athletic scholarship. She will soon be retaking her ACT in order to gain the one point needed for a full Presidential Scholarship to the University. Maiya has been on the Admiral Farragut Academy Softball team since Freshman year.

"It took a lot of commitment by three Seniors who came in as Freshmen to change the culture," said Linda Derk, Head Softball Coach. "They come out every day with a purpose in mind and they pay attention to our process on the softball field. The process isn't just about the working fundamentals of softball and how to play the game; it's how to be good people on and off the field and be great students, great leaders of character, and most importantly great young women."
Maiya started with a special tribute to her great grandmother, who passed away two weeks ago.
"Today would have been my great grandma's 89th birthday," Maiya said, voice choked with tears. "It really means a lot to me to sign on her birthday because she was just such a big part of my life…I know that she's not here in person, but she's here in spirit." Maiya pointed to a framed picture of her great grandmother.
Maiya went on to thank her family, friends, teammates, coaches, and teachers for helping her get where she is.
"I never thought I'd be standing here signing to play Division 1 Softball, but I'm so thankful I had all of you to help me on my journey."
Coach Linda Derk finished off her speech with a few words of wisdom.
"The journey to success isn't always easy…sometimes you have bumps in the road, sometimes things unexpectedly happen. But I can tell you this: we are a family and family is everything.  We are very, very fortunate to have a great Softball family here."
The Softball team will play in the district semi-final Thursday at Indian Rocks Christian at 7pm vs. the winner of the St. Pete Christian/Shorecrest game.  If they win, they are in the Championship game on Friday 6pm at Indian Rocks Christian. We hope to see everyone there to cheer them on!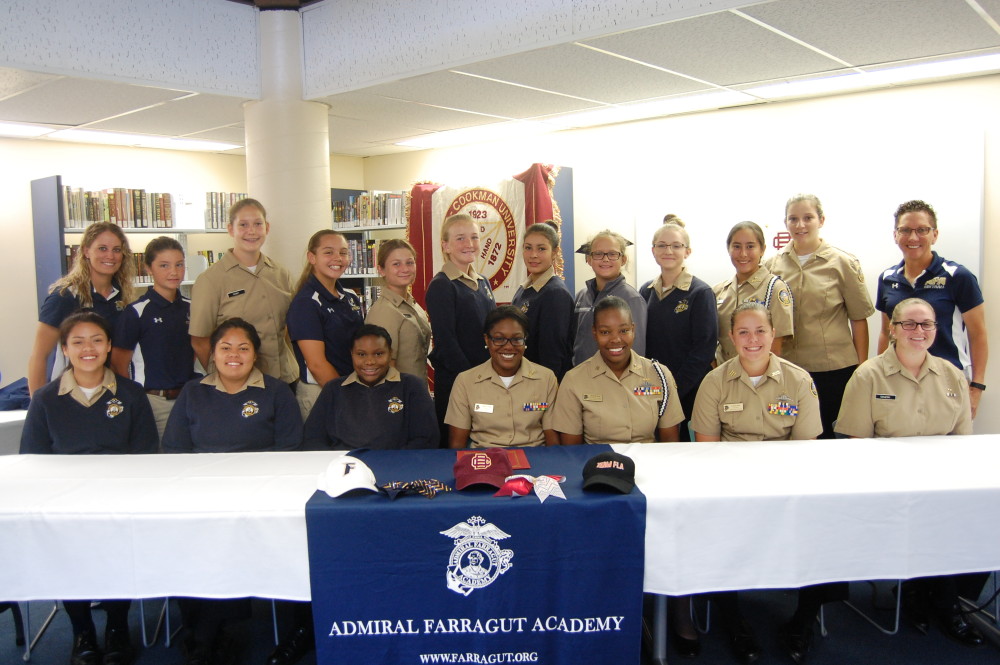 #GoBlueJackets #AFAsoftball